A piece of artwork has been unveiled at Bidston train station as part of a project to use the railway to promote women's mental health and confidence as we come out of the COVID-19 pandemic.
The project – named "Light at the End of the Tunnel" involved members of women's charity Tomorrow's Women Wirral – who have been accessing support from the service – designing artwork showcasing what their light would be after the pandemic.
The aim of the project was to support current members of Tomorrow's Women throughout the pandemic but also to make the wider female community aware of the support on offer through the publicly displayed artwork.
This was a joint effort between Merseyrail, the Liverpool City Region Combined Authority, Tomorrow's Women Wirral, Women in Community Rail and the Borderlands Community Rail Partnership members.
It was funded by Chester Shrewsbury Rail Partnership and the Borderlands Community Rail Partnership.
Tomorrow's Women is a women's charity operating in Wirral and Cheshire West and Chester, supporting women in the criminal justice system, or those who are overcoming adversity to make positive lifestyle changes.
The charity offers a wide range of free services such as tailored interventions and courses, support services and activities in a women-only safe space in the heart of Birkenhead.
The artwork was unveiled at a ceremony at Bidston station attended by representatives of all involved organisations.
Jane English, Deputy Managing Director at Merseyrail, said:
"I am proud that Merseyrail were able to be part of this project and help to display the fantastic artwork that the women from Tomorrow's Women Wirral have created.

"The challenges of COVID-19 have been particularly difficult for these women, so to be able to support them and give them the platform they deserve is a real honour.

"I look forward to continuing working with partners and Tomorrow's Women Wirral as together we will support them with career advice, upskilling and improving confidence."
Kate O'Neill, one of the members of Tomorrow's Women Wirral, said:
"Lockdown made us realise how much Tomorrow's Women means to us. Just knowing that there were women there as our safety net gave us hope on our bad days.

"The Light At The End Of The Tunnel Project brought us together in a way we hadn't been for months. It felt good to exchange our ideas and hopes for the future in a creative way."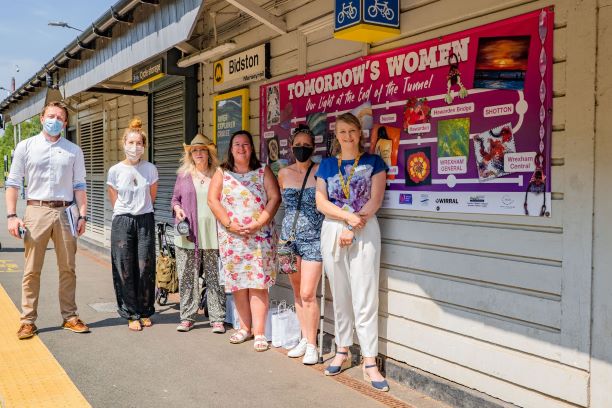 Mal Drury Rose, Assistant Director for Rail at the Liverpool City Region Combined Authority, said:
"The Liverpool City Region rail network is not just about getting from A to B, it's about connecting people and this special new artwork 'Light at the End of the Tunnel' captures this.

"Our rail network been there to support our local communities throughout the pandemic and will be just as important part of our work to recover and rebuild."
Marion Atkinson, Chair of Women in Community Rail, said: "The partnership approach throughout this project, given the challenges of COVID-19, has been outstanding. However, the project doesn't stop here.

"Working with Tomorrow's Women, Women in Community Rail are looking to lead the way on improving skills, education, career opportunities, confidence building and much more by using resources and expertise across the whole of the rail industry."
Jamie Sant, Rail Officer from Borderlands Railway Line, said:
"I am delighted to represent the Borderlands Line partnership with stakeholder organisations. We recognise the direct social value of the regional work undertaken by Tomorrow's Women Wirral and how this benefits our adjoining communities between Wirral and Wales.

"It's heartening to know this project to date has not only offered vital direct links to those who are vulnerable and subject to increased risk, but continues to offer support, compassion and a light to guide the way to future opportunities in our communities."