One Vision Housing (OVH), part of The Sovini Group, is delighted to announce their eagerly awaited redevelopment project on the site of the former Cabbage Pub in Netherton, Sefton has been completed.
The land on Fleetwood's Lane became available when the former Cabbage Pub tragically burnt down.
To prevent deterioration of the area, OVH wanted to provide much needed affordable housing solutions, supporting their vision to reinvest and strengthen communities.
OVH teams have worked tirelessly over the past 19 months to execute the £4.3m project to an exceptional standard.
The timely delivery of these modern and affordable houses comes in collaboration with The Sovini Group's construction arm Sovini Construction, with each residence built to a high specification.
OVH's environmental ambitions are also met with the introduction of car charging points, helping ensure they continue to enhance the environment through their operations wherever possible.
Additionally, OVH helped support local organisation, Shy Lowen Horse and Pony Sanctuary, by donating hoarding which had been previously used to secure the site. Tucked away just across the road, Shy Lowen has been rescuing, retraining and rehoming horses and ponies in need since 1992.
Ian Mitchell, Managing Director for One Vision Housing, said:
"The unveiling of our latest affordable housing project forms part of our commitment to build over 2,200 high-quality homes by 2026. This latest development is a perfect example of how, through successful collaboration, we can achieve our vision to create thriving and inclusive communities."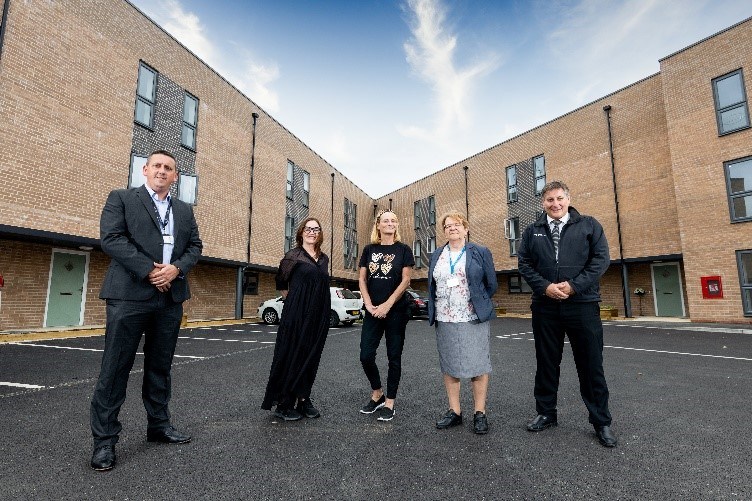 Top (left to right) – Ian Mitchell (Managing Director, One Vision Housing), Amanda Smith (Head of Development, One Vision Housing), Karen Lee (Project Manager, One Vision Housing), Cllr Linda Clusky and Tony Dolan (Contracts Manager, Sovini Construction).