SquareOne are pleased to announce that we have won a contract to deliver Authorised CAD training through the new Accelerate programme in partnership with University of Chester and the European Social Fund.
The programme, is designed to provide employees who live or work in Cheshire or Warrington the opportunity to receive 40% funding to go towards the cost of skills training and will help to bridge a massive cost barrier to businesses looking to develop staff with professional training.
This is a fantastic opportunity for employees to become more resilient and competitive after a challenging year and SquareOne are delighted to have been chosen to provide their high level, Autodesk authorised, training at what will now be the cheapest anywhere in the UK – allowing more individuals to benefit.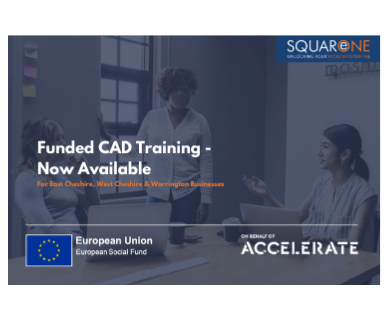 The training sessions, will largely be delivered online, but thanks to our brand new Wirral training centre and specialist trainers, we are able to offer both in-house and public courses regularly.
If you feel your business may benefit from accessing 40% off CAD Training, feel free to contact one of our team who would be delighted to talk you through your options.
The criteria for eligibility is:
– You have the legal right to live and work in the UK
– You either live or work in Cheshire/Warrington
– You are in employment or self-employed
To find out more visit: https://squareonetraining.com/pages/news/2021/cad-chester
Call us on 0151 650 6907 or email enquiries@squareonetraining.com