Santas invited to fundraise for new neonatal campaign 
Four-year-old ambassador Betty will officially
start the annual festive fun run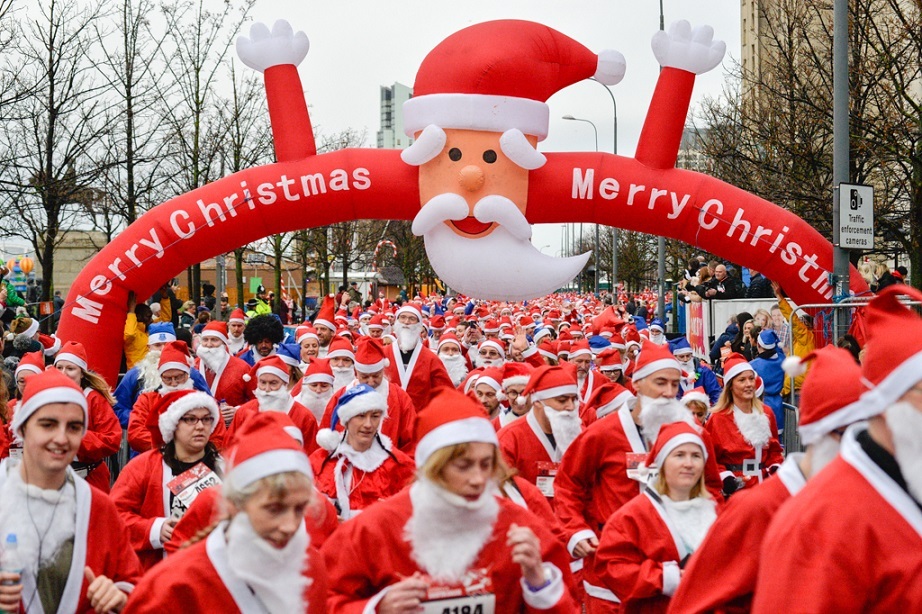 Alder Hey Children's Charity has been revealed as the official charity partner for the Liverpool Santa Dash 2021.
Santas will be delighted the event returns in real-life on Sunday 5 December after the fun run was staged virtually last year due to Covid-19 guidelines. The event starts at 9.30am from Pier Head Liverpool.
Organisers BTR Liverpool are delighted to welcome Alder Hey Children's Charity on-board as part of the event. The hospital recently launched its new £2.5million Surgical Neonatal Appeal to help develop a state-of-the-art unit for newborn babies and their families.
Dashing Santas are being encouraged to walk, jog or run to raise funds for Alder Hey Children's Charity.
Highly regarded as the city's kick-start to Christmas, the event returns for its 18th consecutive year and is thought to be the UK's biggest festive 5K fun run.
The news follows the recent announcement of new headline partner, Liverpool-based gifting company Appreciate Group. The partnership also gives this year's event a new title – it will be known as the Appreciate Group Liverpool Santa Dash.
Alder Hey's new fundraising campaign was launched in September by Liverpool Football Club legend Jamie Carragher, who spent the first six weeks of his own life in Alder Hey's neonatal ward.
The new Surgical NICU is a joint project between Alder Hey and Liverpool Women's NHS Foundation Trust as the Liverpool Neonatal Partnership. It will offer a further 22 neonatal cots for Liverpool, including 18 individual family rooms where parents can remain alongside their poorly newborns receiving expert care.
One very special mini Santa set to attend the event is four-year-old Betty from Warrington with Mum Karen, Dad Phil, brother Stanley, and sister Martha. Betty is also one of the children featured in the Christmas pyjama campaign with retailer Matalan.
Betty was born four months premature weighing only 650 grams. She needed neonatal intensive care at Liverpool Women's Hospital, where her immature lungs were supported by a ventilator. Her bowel was perforated in two places and she was taken to Alder Hey by ambulance for emergency surgery, the first of many visits which would follow. Baby Betty was to endure infections, blood transfusions, blood cultures, lumbar punctures, bowel procedures, and an emergency tracheostomy – but the youngster continued to fight on.
Helped and supported by the dedicated team of professionals at Alder Hey, Karen and Phil trained to have the knowledge and skills to deal with Betty's ongoing medical needs so the family could be reunited. And after 13 months, Betty finally made it home. Betty is still receiving care from Alder Hey.
Adam Dixon, Community Fundraiser for Alder Hey Children's Charity, commented:
"We are incredibly excited to be the official charity of the Appreciate Group Liverpool Santa Dash 2021 – a massive thank to our friends at BTR Liverpool who have supported Alder Hey Children's Charity for a number of years. We know our amazing Santas will raise a huge amount for our brand new Surgical Neonatal Appeal to help the region's babies and their families – just like Betty. See you all at the start line, Ho Ho Ho!"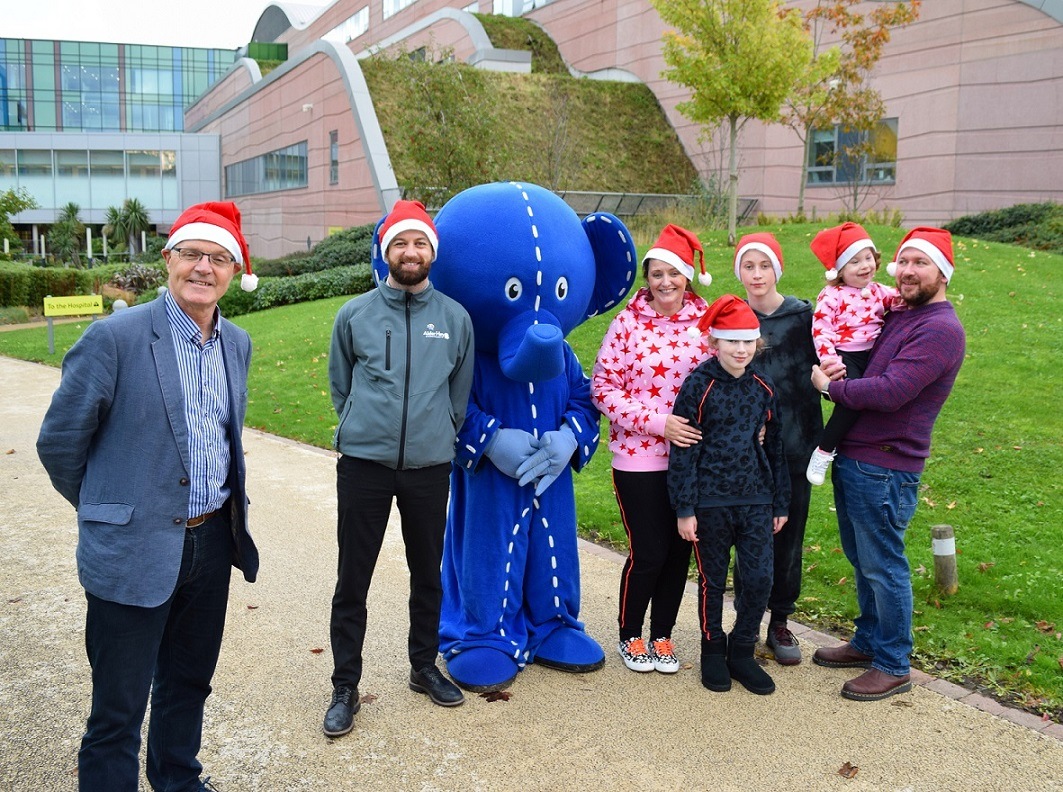 Betty's Dad Phil added:
"Betty is just amazing. She is the most delightful, placid, and brave little girl. Betty's journey will continue and the remarkable NHS that saved her countless times will continue on this road with her. Betty is our little miracle and no matter what comes we will all continue to love her with everything we have, and with utter joy and immense gratitude to those that never gave up on her – and gave us this most precious gift."
Created by BTR Race Director Alan Rothwell, the Liverpool Santa Dash was first staged in 2004. A separate 1K Mini Dash for under 12s was added in 2007, and blue Santa suits were introduced three years later.
Plans are well underway to bring the Liverpool Santa Dash to life once again as a public event after being staged virtually last year. Organisers are pulling out all the stops to enable participants get their Santa Dash fix in real-life. Any Covid-19 guidelines required at the time of the event will be followed.
BTR Liverpool is the leading independent organisation for creating, managing and delivering headline race events across Liverpool City Region. Its extensive portfolio also includes the BTR Liverpool Skyline Half Marathon; BTR Mersey Tunnel 10K; BTR Port Sunlight 5K and 10K; and 52-mile BTR Tour Of Merseyside.
BTR Race Director Alan Rothwell said:
"The Appreciate Group Liverpool Santa Dash is family friendly, special, full of energy and laughter – so we're thrilled that Alder Hey Children's Charity has joined the Liverpool Santa Dash family for what promises to be a very special year. And we're thrilled that Betty and her family will be joining us on the day to help start the Santa Dash. Christmas is all about youngsters so this is the ideal opportunity to sign up, pull on your Santa suit, and dash round the city to raise funds for Alder Hey. Help make a real difference to support children and their families in their time of real need."
The 5K route includes city centre landmarks Museum Of Liverpool, Grade I Listed Royal Albert Dock Liverpool, and a grandstand finish outside Liverpool Town Hall featuring stilt walking festive characters and 'real' snow.
Liverpool Santa Dash is an accessible event open to everyone, from those running purely for fun with others fundraising. Each year Santas include wheelchair participants, walkers, joggers, runners, families, friends, colleagues – even tiny Santas in prams and four-legged furry Santas.
The event acts as a platform for community groups, businesses, and charities to fundraise independently while taking part.
The registration fee covers all costs to organise and deliver the event including road closures, safety measures, Santa suits, medals, goody bags, and entertainment.
Liverpool-based Appreciate Group is the headline partner for the Liverpool Santa Dash 2021.
Appreciate Group is home to many of the nation's most loved gifting and reward products including Love2shop, highstreetvouchers.com, and Park Christmas Savings. Based in the region for more than 50 years, Appreciate Group are committed to supporting their community.
Online registration is open. A pop-up shop for in-person registration and Santa suit collection will open on Monday 1 November at St Johns Shopping Centre. The shop will be open daily until Saturday 4 December 2021.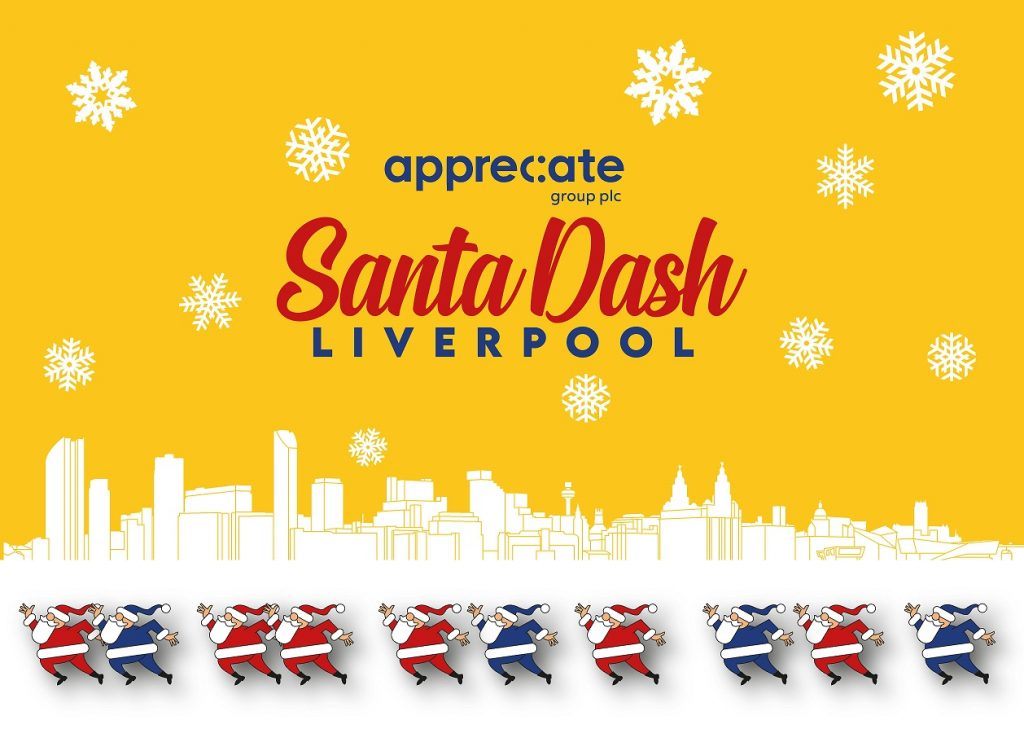 Liverpool Santa Dash
For full details visit https://www.btrliverpool.com/santa-dash
Facebook     Facebook/BTR Liverpool
                    Facebook/BTRLiverpoolSantaDash
Twitter         @BTRLiverpool
Hashtag       #LiverpoolSantaDash
                    #SantaDashDay