28th, 29th & 30th October, Greenwich, London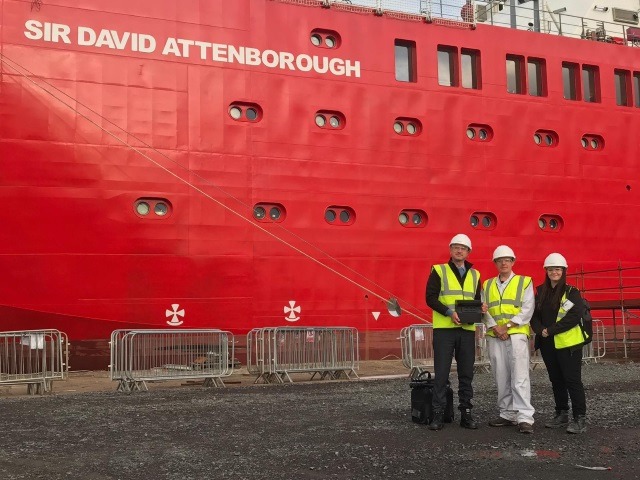 Hi-impact will be joining the British Antarctic Survey (BAS) in Greenwich, as the RRS Sir David Attenborough sails in from Harwich to make its final stop ahead of its first mission to the Antarctic. Operated by BAS, the vessel has been designed to enable world-leading research within the polar region and advance understanding on the impact of climate change.
The occasion is being celebrated with a 3 day Ice Worlds Festival, focusing on the Royal Maritime Museum and the Cutty Sark as venues, with inspiring talks and exhibitions available to the general public.
Hi-impact's involvement is two-fold: firstly, our L&D team has built an interactive virtual tour of the ship, which will be launched at the festival.
Simon Sloan, Innovation Manager at hi-impact explained:
"We were lucky enough to create some early virtual tours of a few areas of the ship whilst it was at Cammell Laird in Birkenhead during the build process. Those tours received a lot of interest and the British Antarctic Survey soon began speaking with us about how to capture the vessel as a whole. A full tour wasn't ever going to be possible with this technology and the ship's layout, so we proposed a bespoke interactive platform based on a cross-section model of the ship with hotspots linking to 360 images, educational information and new virtual tours captured more recently."

"In addition to this, we designed and constructed a menu structure to give the virtual visitor access to a video bank and documents containing facts about the ship. It is an innovative way to provide access to the ship for the general public and despite the

complexities of the platform build, the end user experience will be exceptionally intuitive and rewarding, offering behind the scenes access and in-depth exploration of some really interesting spaces on board!"
Secondly, during the festival hi-impact will be filming and streaming key events, managing these into looping content that will be displayed on the internet as well as on huge video walls on the quayside for the public. This content will feature videos from the build of the vessel, interviews with Sir David Attenborough and other notable people, and advertisements for the new virtual SDA resource mentioned above.
Ahead of the live event, hi-impact visited the port of Harwich and spent time onboard the SDA filming interviews with key personnel who gave their accounts of living and working on the ship. These interviews will be included in the 45 minute guided tour video of the vessel which will be streamed from the event in Greenwich.
The footage of this special event will be available to view throughout the 3 day event and streamed on the hi-impact L&D website and on their social media platforms. The link to the site is https://hi-impact-ld.co.uk/sda/, which will go live from the 28th October.