Innovation among Liverpool city region firms was celebrated at the Liverpool Chamber Innovation in Business Awards held at the Innside by Melia Hotel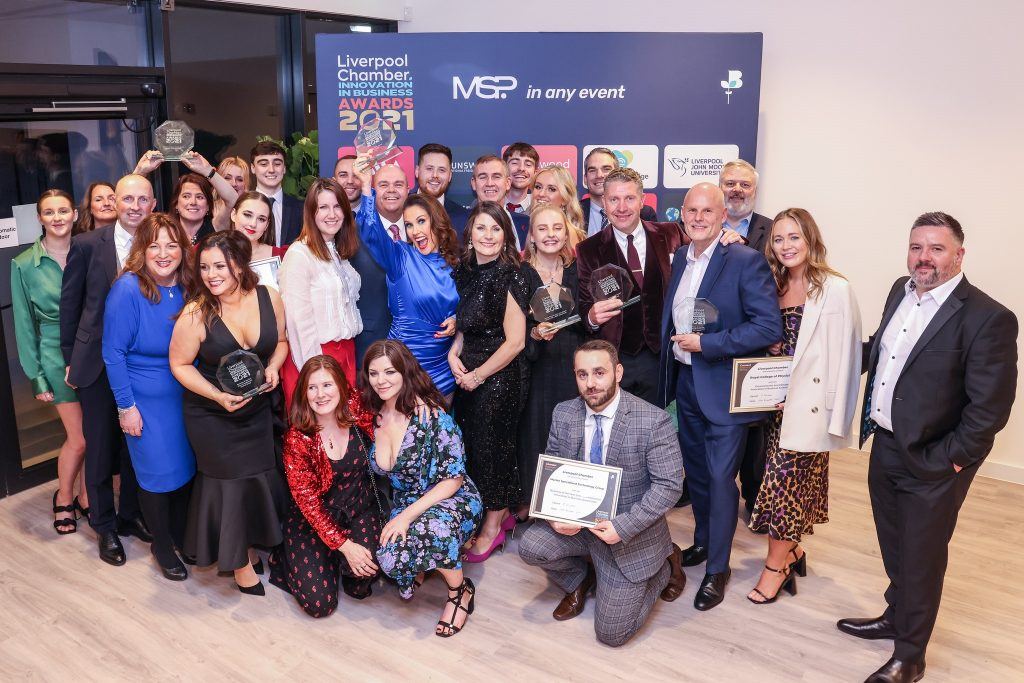 Winners of the 2021 Liverpool Chamber Innovation in Business Awards
Medical diagnostics firm BioGrad and technical event support specialist MSP Global were among the big winners at the Liverpool Chamber Innovation in Business Awards.
The awards, which celebrate the spirit of innovation that has driven many local businesses in their recovery from the pandemic, were presented at the new Innside by Melia Hotel on Old Hall Street.
The evening's host was BBC Radio Merseyside presenter and founder of the iWoman Academy, Ngunan Adamu.
BioGrad collected the award for Business of the Year with more than 30 employees and MSP Global was awarded the title for businesses with fewer than 30 employees. Engineering firm Sutcliffe received the Chairman's award.
Wild Thang scooped the International award, while Amber Ellis from PINS Social Club was named Young Person of the Year. The Skills award was won by Everton in the Community, while Everton FC chief executive Professor Denise Barrett-Baxendale won the Local Hero award.
Booker Flowers & Gifts won the Environmental award and mental health charity Chasing The Stigma was named Responsible Business of the Year. The winners of each award will now be put forward as Liverpool Chamber's nominees for the national Chamber Business Awards.
In each category, a special award was also given to an innovator that has overcome the challenges of the pandemic.
Winners included Redwigwam (Skills), Rise Construction Framework (Responsible Business) and the Royal College of Physicians (Environmental).
Also among the winners of special innovation awards were Alfie Kearns of I Am Moore (Young Person), Gencoa (International), Mike Moran MBE (Local Hero) CNC Robotics (Business of the Year with fewer than 30 employees) and Marine Specialised Technology (Business of the Year with more than 30 employees).
A separate 'Green Room' experience was also held at Dwntwn on Harrington Street, where the awards event was live streamed and hosted by presenter and podcast producer Gemma Cutting, allowing guests to share the awards experience live and support the nominated businesses.
Paul Cherpeau, chief executive of Liverpool Chamber, said: "It was fantastic to bring so many successful businesses together again this year to celebrate their achievements during a period of unprecedented challenge.
"Many organisations are, of course, still facing up to the adversity caused the pandemic, but there has been a genuine sense of optimism around the awards and that was reflected throughout the evening.
"Innovation has been at the heart of the pandemic response for so many businesses in the Liverpool city region, so it was only fitting that we should award separate prizes to highlight their talent, agility and resilience.
"The hybrid model of a traditional event combined with remote streaming not only allowed us to maximise the safety and choice of our guests, but also to socialise and enjoy the event with many more businesses.
Clatterbridge Cancer Charity is one of the chamber's official charity partners and fundraising activities were held on their behalf during the evening.